Aluminum Tripod 3S
The Aluminum Tripod 3S is a very robust tripod at a fair price and is ideally suited to position MBASS30, the 2-channel sampling pump BiVOC2 and also the ionometer IM806 for indoor and outdoor samplings. It has a very high load capacity to carry the tripod table DuoSta and the devices.
The name 3S means:
Swift assembly and mounting of the sampling devices
Strong enough to carry the sampling devices – Load capacity: 12 kg
Safe stand with the device carrier DuoSta and a sampling device
Assembly is done very quickly:
Take the tripod 3S out of the bag
Fold out the tripod legs up to the first stop (it is not required to fold the legs over the center post)
Open the three levers on each tripod leg (all levers on one leg can be opened together)
Pull out the tripod legs and lock them with the levers (the position of the levers allows to optically control whether the legs are locked)
Put the tripod on the ground
Mount the sampling device or the tripod table DuoSta with the quick-change adapter onto the Aluminum Tripod 3S
Done
Additional good features of the tripod 3S:
Height-adjustable center post
Each tripod leg has three angular stops. These allow for a safe stand of the tripod 3S even on difficult undergrounds and stairs.
Quick-change adapter that is suitable for the sampling devices
Spikes that can be screwed out for a safe stand on outdoor operations
The tripod leg lockings can be adjusted with the tools included
The article number is 02-120.
Scope of Delivery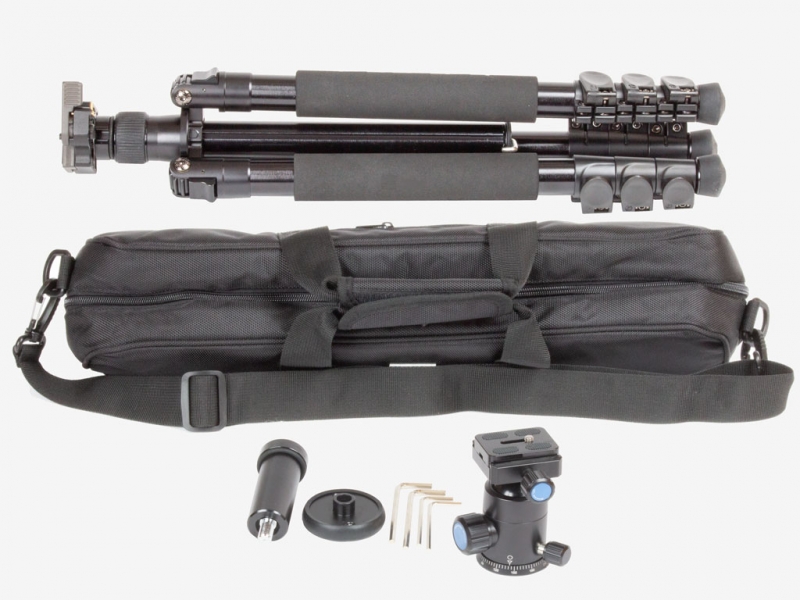 Aluminum Tripod 3S
Carrying Bag
Mini Column (not mounted)
Ball Head (not mounted)
Tools to readjust the tripod leg lockings
Note: For a safe operation with sampling ­devices, we do not recommend the use of the included ball head.
Downloads
Downloads for this product:

Manual Aluminum Tripod 3S
Downloads for this product:

Manual Aluminum Tripod 3S